Company L'Oublié(e) - Raphaëlle Boitel
Created in 2012, the company L'Oublié(e) is directed by Raphaëlle Boitel, director and choreographer. She conceives a physical language inscribed in a visual universe that is written in the three dimensions of the stage, and addresses all audiences. It mixes different artistic disciplines: theatre, circus, dance, music and cinema through a chiselled work of light. The tragic and the comic are summoned in a metaphorical writing. The creation of new apparatus, particularly in the field of aerials, renews the traditional disciplines. A team of creators founds the core of the company, Tristan Baudoin (scenography, lighting), Arthur Bison (music), Nicolas Lourdelle (machinery, set), Liliane Hérin (costumes). In the company directory, Consolations, 2013 – The Forgotten , 2014 – Fierce 5, 2015 – The Black Beast, 2017 – When angels Fall, 2018 – Horizon, 2019 – One versus One, 2020. In parallel, Raphaëlle Boitel works as a choreographer for the Opera. > Partners The company is in partnership with L'Agora PNC Boulazac Aquitaine. It is supported by L'OARA, L'ONDA, Ministry of Culture, DRAC Nouvelle Aquitaine,Ville de Boulazac Isle Manoire, Dordogne Department. Other partner theatres that support the creations ; Le Grand-T, Théâtre de Loire-Atlantique, Le Carré Magique, PNC en Bretagne / Lannion, Le Grand R scène nationale de La Roche-sur-Yon, Peak Performances-Montclair USA, Le Carré Colonnes in St-Médard-en-Jalles and Blanquefort, Le Relais Culturel d'Argentan, Les 3T – scène conventionnée de Châtellerault.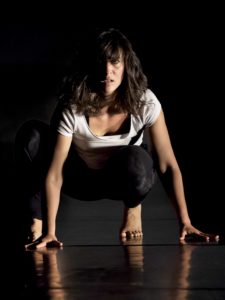 Raphaëlle Boitel
Director and choreographer born in 1984, she started acting at the age of 6. Spotted by Annie Fratellini, she joined the Ecole Nationale des Arts du Cirque Fratellini in 1992. From 1998 to 2010, she worked with James Thierrée and distinguished herself in La Symphonie du Hanneton and La Veillée des Abysses. Parallel to these thirteen years of touring, she has performed in theatre, cinema, television films (directed by Marc Lainé, Lisa Guédy, Graham Eatough, Luc Meyer, Colline Serreau, Jean-Paul Scarpita…), participated in events (Jean-François Zygel), filmed in video clips and performed over long periods in various cabarets in New York, Miami, London… In 2012, she works under the direction of Aurélien Bory Géométrie de Caoutchouc, founds her own company and works on her first personal creations. In 2013, she will stage her first show Consolations, with 3 Artists of the Fratellini Academy, and choreographs the Opera Macbeth at La Scala in Milan, directed by Gorgio Barberio Corsetti. In 2014, she creates L'Oublié(e) The Forgotten a large-form show of "circus theatre". In 2015, Fierce 5 pays tribute to the circus. Shortly after, she choreographed the Opera La Belle Hélène at the Théâtre du Châtelet, directed by Gorgio Barberio Corsetti and Pierrick Sorin. In 2017, she wrote and performed a short form solo The Black Beast, a metaphor for her past as a contortionist. That year, she also choreographed L'Opéra baroque Alcione at L'Opéra comique, conducted by Jordi Savall. In 2018, she creates When Angel Fall, a new large form for big stages, imagined in dystopia. In 2019, she invented Horizon, an exterior form with free-runners that is created on the facades and roofs of historic buildings. 2020 is the year of creation of 1 vs 1, her first show for the Kid's audience.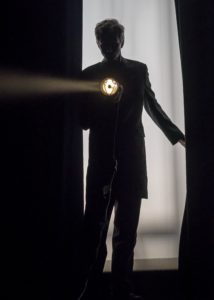 Team
Tristan Baudoin – scenographer, lighting designer grew up in an artistic environment. Passionate about Plastic Arts, at the age of 17 he began working in the techniques of show business. He is mainly trained in lighting and stage techniques. He multiplies experiences in live shows, television, events. From 1998, he concentrates his activities on theater, music, dance, and favors creations, working with many artists from the Toulouse region. In 2004 he met Aurélien Bory and joined the 111 Company, with which he became completely involved and became the stage referent for more than 10 years. There he develops his knowledge in scenography, machinery, flights or robotics, by piloting the industrial robot of Sans Objet. In 2011, he meets Raphaëlle Boitel and decides to accompany her in her creations. He collaborates with her in the conception, the realization, the scenography, the lighting and the technical control on all her artistic projects. Arthur Bison – composer, musician began working at the age of 19 as a studio assistant for Dan Levy, a film and dance music composer and founding member of The Do. Between 2006 and 2013, he participated in the recording of the film Darling, and the award-winning albums A Mouthful and Both Ways Open Jaws. He follows the band on tour as technician and stage manager. In parallel, he began collaborating with choreographer Johanna Levy in 2008, composing and recording music for her pieces Hotel Mind (2008), After (2014) and Twist (2016). He met Raphaëlle Boitel in 2011 and has since written and recorded the music for her shows The forgotten, 2014 – Fierce 5, 2015 – When Angels Fall, 2018 – The Black Beast, 2019 and One versus One, 2020 Nicolas Lourdelle – Machinery, rigging, stage manager was trained at the National Centre for Circus Arts in Châlons-en-Champagne and graduated from the 12th class with the show "la tribu iota". At the same time he participated in the creation of the Baro d'Evel Cirk company. In 2004, he met David Bobée with whom he worked for 5 seasons. At the same time, he created the company Bis Repetita in which he invented self-supporting metallic scenographic structures. He also started working with the 111 – Aurélien Bory Company in 2006 and it was during these shows that he met Tristan Baudoin and then Raphaëlle Boitel. In 2007 he started training in techniques of hanging and lifting, suspension of circus apparatus, including rigger and rope access. He also works with the Pôle National Cirque d'Amiens where he gives courses in hanging and lifting. In 2017 Raphaëlle Boitel offers to accompany him on the ALCIONE Opera that she choreographs at the Opéra comique. Since then, Nicolas continues this collaboration and accompanies her in all her personal creations. Lilou Hérin – costumes is a regular on sets and tours. Since 1998, she has been working mainly as a costume designer and props designer. In 2006, she received with Victoria Chaplin the Molière for the costumes of La Symphonie du Hanneton, with whom she collaborates occasionally on her creations. Until 2012, she participates in the creation of all James Thierrée's shows, which she leaves to accompany Raphaëlle Boitel in her creations. Since The Forgotten, in parallel to her work for the costumes, she joins the set as a performer.